Discounted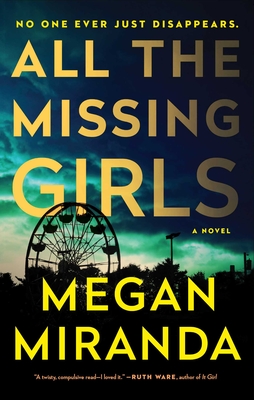 All the Missing Girls: A Novel
Previous price:

$17.99
Current price:

$16.00
Publication Date:
January 31st, 2017
Publisher:
S&S/ Marysue Rucci Books
Usually Ships in 3 to 7 Days
Description
***A NEW YORK TIMES BESTSELLER***
A New York Times Book Review "Editors' Choice"
Entertainment Weekly — Thriller Round-Up
The Wall Street Journal — 5 Killer Books 
Hollywood Reporter — Hot Summer Books…16 Must Reads
"This thriller's all of your fave page-turners (think: Luckiest Girl Alive, The Girl on the Train, Gone Girl) rolled into one." —TheSkimm
"Both [Gillian] Flynn's and Miranda's main characters also reclaim the right of female characters to be more than victim or femme fatale… All the Missing Girls is set to become one of the best books of 2016." —Los Angeles Review of Books
"Extremely interesting…a novel that will probably be called Hitchcockian." —The New York Times Book Review
"Are you paying attention? You'll need to be; this thriller will test your brain with its reverse chronological structure, and it's a page-turner to boot." —Elle
Like the spellbinding psychological suspense in The Girl on the Train and Luckiest Girl Alive, Megan Miranda's novel is a nail-biting, breathtaking story about the disappearances of two young women—a decade apart—told in reverse.
It's been ten years since Nicolette Farrell left her rural hometown after her best friend, Corinne, disappeared from Cooley Ridge without a trace. Back again to tie up loose ends and care for her ailing father, Nic is soon plunged into a shocking drama that reawakens Corinne's case and breaks open old wounds long since stitched.
The decade-old investigation focused on Nic, her brother Daniel, boyfriend Tyler, and Corinne's boyfriend Jackson. Since then, only Nic has left Cooley Ridge. Daniel and his wife, Laura, are expecting a baby; Jackson works at the town bar; and Tyler is dating Annaleise Carter, Nic's younger neighbor and the group's alibi the night Corinne disappeared. Then, within days of Nic's return, Annaleise goes missing.
Told backwards—Day 15 to Day 1—from the time Annaleise goes missing, Nic works to unravel the truth about her younger neighbor's disappearance, revealing shocking truths about her friends, her family, and what really happened to Corinne that night ten years ago.
Like nothing you've ever read before, All the Missing Girls delivers in all the right ways. With twists and turns that lead down dark alleys and dead ends, you may think you're walking a familiar path, but then Megan Miranda turns it all upside down and inside out and leaves us wondering just how far we would be willing to go to protect those we love.
Praise for All the Missing Girls: A Novel
"This thriller's all of your fav page-turners (think: Luckiest Girl Alive, The Girl on the Train, Gone Girl) rolled into one."
—theSkimm
"Both [Gillian] Flynn's and Miranda's main characters also reclaim the right of female characters to be more than victim or femme fatale… All the Missing Girls is set to become one of the best books of 2016."
— Los Angeles Review of Books
"Extremely interesting…a novel that will probably be called Hitchcockian."
—The New York Times Book Review
"Are you paying attention? You'll need to be; this thriller will test your brain with its reverse chronological structure, and it's a page-turner to boot." 
— ELLE
"Intricately plotted…Ms. Miranda brings heightened suspense and a twist to this familiar scenario by telling the story, which unfolds over 15 days, in reverse chronological order."
— The New York Times 
 
"Fast-paced and frightening, All the Missing Girls will teach you why it's dangerous to go into the woods alone at night."
— Refinery29
"All the Missing Girls is the archetypal murder mystery, the kind it seems like everyone has been hungry for since Gillian Flynn's Gone Girl and Paula Hawkins's Girl on a Train."
— Cosmopolitan.com
"A new spin on a classic "missing person" thriller, All the Missing Girls is the perfect read for thriller fans."
— Bustle.com
"In All the Missing Girls Megan Miranda leads readers back through the past of a small southern town, enfolding them in a slow, tense nightmare of suspicion, menace, and tangled motives. A twisty, compulsive read--I loved it."
— Ruth Ware, author of IN A DARK, DARK WOOD
"Fiendishly plotted...Miranda convincingly conjures a haunted setting that serves as a character in its own right, but what really makes this roller-coaster so memorable is her inspired use of reverse chronology, so that each chapter steps further back in time, dramatically shifting the reader's perspective."
— Publishers Weekly, starred review
"As original as it is addictive, this story puts a knot in your gut from the opening pages. Then, through the wizardry of its unconventional structure, that knot tightens and tightens and will not let go until the final pages—and even then the story continues to haunt you. Vividly rendered, psychologically complex, and narratively acrobatic, All The Missing Girls is, above all, totally gripping."
— Tim Johnston, New York Times bestselling author of DESCENT
"Darkly nostalgic....Miranda takes a risk by telling the story backward, but it pays off with an undroppable thriller, plenty of romantic suspense, and a fresh take on the decades-old teenage-murder theme."
— Booklist
 
"All the Missing Girls is a smart, suspenseful, and emotionally complex thriller. Told in reverse, this story will make you want to lock the doors, turn off the phone, and read until the last satisfying page."
— Alafair Burke, New York Times bestselling author of THE EX
"Megan Miranda's utterly gripping and original All the Missing Girls keeps you off balance in the most perfect way. I was held hostage by the book from the first page to the stunning conclusion. This literally backward tale is a winner."
— Lisa Lutz, author of THE PASSENGER and HOW TO START A FIRE