Discounted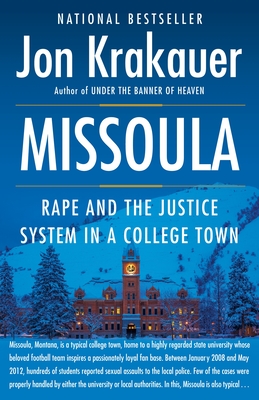 Missoula: Rape and the Justice System in a College Town
Previous price:

$19.00
Current price:

$17.95
Publication Date:
January 12th, 2016
Usually Ships in 3 to 7 Days
Description
NATIONAL BESTSELLER • "A devastating exposé of colleges and local law enforcement.... A substantive deep dive into the morass of campus sex crimes, where the victim is too often treated like the accused." —Entertainment Weekly
Missoula, Montana, is a typical college town, home to a highly regarded state university whose beloved football team inspires a passionately loyal fan base. Between January 2008 and May 2012, hundreds of students reported sexual assaults to the local police. Few of the cases were properly handled by either the university or local authorities. In this, Missoula is also typical.
In these pages, acclaimed journalist Jon Krakauer investigates a spate of campus rapes that occurred in Missoula over a four-year period. Taking the town as a case study for a crime that is sadly prevalent throughout the nation, Krakauer documents the experiences of five victims: their fear and self-doubt in the aftermath; the skepticism directed at them by police, prosecutors, and the public; their bravery in pushing forward and what it cost them. These stories cut through abstract ideological debate about acquaintance rape to demonstrate that it does not happen because women are sending mixed signals or seeking attention. They are victims of a terrible crime, deserving of fairness from our justice system. Rigorously researched, rendered in incisive prose, Missoula stands as an essential call to action.  
Praise for Missoula: Rape and the Justice System in a College Town
"Excellent. . . . Krakauer doesn't just tell the story of these crimes. As he has done so brilliantly in his other books . . . he sets the story firmly in the context of social history." —The Boston Globe
"An important, difficult and timely subject. . . . Meticulously reported, fascinating and deeply disturbing." —USA Today
"Jon Krakauer began his career as an author of taut, finely reported outdoor adventures; seven books later, he emerges as the conscience of a nation." —The Christian Science Monitor
"Missoula will be a touchstone of any future correction to the rape culture we live in." —Minneapolis Star Tribune
"Compelling. . . . Meticulous. . . . Krakauer is a writer committed above all else to asking difficult questions. . . . [A] timely and important book." —Los Angeles Times
"Compelling. . . . Clear and dispassionate, offering level-headed, in-depth reportage." —Chicago Tribune 
"A narrative nonfiction page-turner. . . . Krakauer skillfully strengthens his sources' recollections without taking away their agency." —Buzzfeed
"A devastating exposé of colleges and local law enforcement. . . . A substantive deep dive into the morass of campus sex crimes, where the victim is too often treated like the accused." —Entertainment Weekly
"A good and needed thing. . . . Powerful. . . . Krakauer has done a great service by taking on this subject." —Newsweek
"Krakauer exposes the cavalier attitude of police, prosecutors and football fans toward victims of acquaintance rape in the Montana town full of fanatics for the University of Montana football team." —The Denver Post
"A clear and undeniable picture of a broken system. . . . Krakauer's straightforward writing resists sensationalism. . . . This is a book we all needed." —Missoula Independent
"A harrowing read. . . . Missoula stands as both a reminder of the forces arrayed against women raising their voices, and of the tremendous power of the telling of their stories." —The Toronto Star
"Krakauer's evocative reporting, honed to a fine edge of anger, vividly conveys the ordeal of victims and their ongoing psychological dislocations. . . . A hard-hitting true-crime exposé that looks underneath the he-said-she-said to get at the sexist assumptions that help cover up and enable these crimes." —Publishers Weekly (starred)
"Riveting. . . . A raw and difficult but necessary read." —Kirkus Reviews