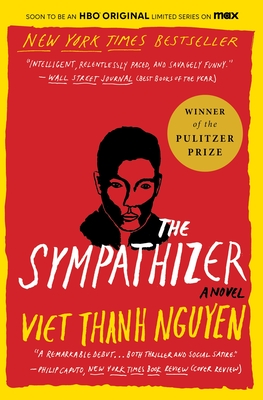 The Sympathizer: A Novel (Pulitzer Prize for Fiction)
Publication Date:
April 12th, 2016
Usually Ships in 3 to 7 Days
The Sympathizer is a fascinating and highly original novel about the Vietnam War and its aftermath. The unnamed narrator, a South Vietnamese captain, works for the Americans while spying for the Viet Cong. After the evacuation of Saigon, he follows an American general to the U.S. and finds himself torn between two worlds: his new life in the West among his fellow political refugees and his sympathies for the Communists back home. Nguyen injects much dark humor into this tragic story, and the narrator's voice is both subversive and unforgettable. The Sympathizer will be one of the most talked-about novels of the year.
April 2015 Indie Next List
Description
Soon to be an HBO Original Series

Winner of the 2016 Pulitzer Prize for Fiction
Winner of the 2016 Edgar Award for Best First Novel
Winner of the 2016 Andrew Carnegie Medal for Excellence in Fiction
One of TIME's 100 Best Mystery and Thriller Books of All Time
" A] remarkable debut novel." --Philip Caputo, New York Times Book Review (cover review)
Winner of the 2016 Pulitzer Prize, a startling debut novel from a powerful new voice featuring one of the most remarkable narrators of recent fiction: a conflicted subversive and idealist working as a double agent in the aftermath of the Vietnam War.
The winner of the 2016 Pulitzer Prize for Fiction, as well as seven other awards, The Sympathizer is the breakthrough novel of the year. With the pace and suspense of a thriller and prose that has been compared to Graham Greene and Saul Bellow, The Sympathizer is a sweeping epic of love and betrayal. The narrator, a communist double agent, is a "man of two minds," a half-French, half-Vietnamese army captain who arranges to come to America after the Fall of Saigon, and while building a new life with other Vietnamese refugees in Los Angeles is secretly reporting back to his communist superiors in Vietnam.
The Sympathizer is a blistering exploration of identity and America, a gripping espionage novel, and a powerful story of love and friendship.